Benefits of Sankosha Finishing Equipment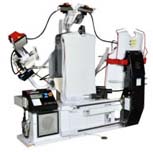 Sankosha Press and Progress manufactures machines to be sophisticatedly simple for the garment care industry. Their goal is for our customers to be able to produce the finest quality pressed product while experiencing our unparalleled reliability. Sankosha has built a reputation based on innovative breakthroughs coupled with user-friendly finishing equipment which has become their legacy. Providing the dry cleaning industry with leading warranties and customer service is a top priority at Sankosha.
Parrisianne Dry Cleaning Solutions Ltd have been very fortunate to be associated which such a great manufacturer, who are foremost a shirt machine manufacturer and spend most of their research & development on finding ways to improve the machines they produce, to help the end user with shirt production and quality and most of all to build a machine that lasts. In the past 9 years Parrisianne has installed systems for the drycleaner that wants to enter the shirt market, up to the drycleaner/launderer that is processing 15,000+ shirts per week and with over 250 installations in the United Kingdom can rightly claim to be the UK's leading distributor of shirt machinery.
At Parrisianne Dry Cleaning Solutions Ltd and Sankosha Press & Progress we understand that making the decision to invest in shirt machinery is one that isn't taken lightly. Whether you are taking your first steps into the competitive shirt market or upgrading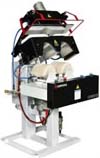 your existing machinery it is important to make sure that you are getting the best system possible for your money.
The most common order placed with Parrisianne is for the single buck shirt machine with collar cuff press. Capable of producing 60 shirts per hour and up to 2,500 shirts per week with one operator the combination of the New Sankosha LP580E tensioning single buck shirt unit with larger pressing head and the LP690E-V2 tensioning single collar cuff press is a market leader and if you are serious about shirts, currently processing 300+ shirts per week and are looking to enter the shirt market, reduce labour costs and processing time, whilst trying to increase volumes this combination has been proven time and time again.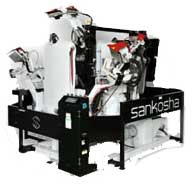 For the companies in the industry that are processing 1,500 – 2,000 shirts per week and are looking to increase the volumes maybe through adding a receiving shop or with contract work the New Sankosha LP190E tensioning double buck shirt with larger pressing head offers the same build and finish quality. Capable of producing up to 120 shirts per hour with one operator and 5,000 shirts per week the LP190E can be used alongside a single, double or quadruple collar cuff press with outstanding results.
Don't believe what you are reading then read the testimonials page or simply contact us and we can arrange for you to visit any one of our 300 showrooms!