Primus Laundry Products - Wet Cleaning

Wet cleaning is a garment cleaning technique that uses detergents and water which is processed in a washing machine, and not in a dry cleaning machine.

Since the early 1990's many companies have tried to bring wet cleaning back to the industry however recent advances in both wet cleaning technology and garment care have revived wet cleaning as a safe alternative to dry cleaning. Such is the progress made that trained cleaners are now able to wet clean many garments that have typically been dry cleaned, such as silks, woollens, linens, suede's, and leathers.
Modern wet cleaning uses large, specialized machines to gently wash and dry clothes. These machines may be programmed for many variables, such as mechanical action, water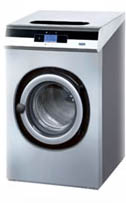 and drying temperature, moisture levels in the dryer, and water and detergent volume. This flexible technology provides cleaners with the controls to administer a customized wet wash suited to a fabric's specific needs.
For example, wet cleaners can set their machines to as few as six revolutions per minute to reduce the stress placed on delicate fabrics during the wash cycle. (In contrast, a typical home washing machine may rotate garments several dozen times per minute.) To safely clean fabrics that can shrink when washed in water and dried, cleaners can increase the amount of water spun out of wet garments after the final rinsing cycle, so that minimal drying is needed. They can also control the temperature and humidity levels during the drying process to prevent shrinkage.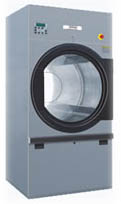 Trained wet cleaners also use other tools to ensure that garments are safely cleaned. For clothes that bleed, cleaners can apply an agent that prevents dye from washing out of garments. New, mild bleaching detergents can be used to remove tough stains without diminishing colour. Fabric softeners and finishes can be added during the wet cleaning cycle to restore fabric softness, body, and crispness to garments once they are dried.
Machinery options for wet cleaning:
- Primus FX105 washer extractor / Primus T13 Tumble Dryer
- Primus FX135 washer extractor / Primus T16 Tumble Dryer
- Primus FX180 washer extractor / Primus T24 Tumble Dryer
- Primus FX240 washer extractor / Primus T24 Tumble Dryer

Finishing
When wet cleaning it is important that a cleaner uses the correct finishing equipment to "tension" garments back to their original shape. Listed below are examples of suggested wet cleaning finishing packages.
Wet Cleaning finishing package 1: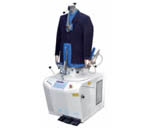 Ghidini MC105
Air Operated
Form Finisher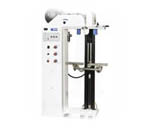 Ghidini T3000
Trouser Topper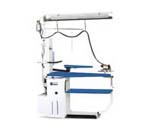 Ghidini Tornado V
Utility Table with
Vacuum & Blowing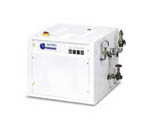 Ghidini Maxi 60
Automatic Electric
Steam Boiler
Wet Cleaning finishing package 2:
Sankosha DF100E
Rotary Form
Finisher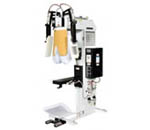 Sankosha DF740E
Semi Automatic
Trouser Topper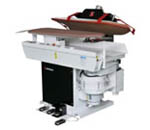 Sankosha DP450RE
Fast Back
Utility Press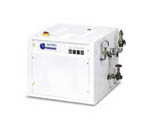 Ghidini Maxi 60
Automatic Electric
Steam Boiler