Primus Laundry Products - Primus Laundry
Primus FX Range Commercial Washing Machines
Primus's FX ranges of commercial washing machines are easy to use, freestanding; high spin industrial washers with reduced water and energy consumption. Available with capacities ranging from 8kg up to 24kg
All FX range commercial washers have Eco 3 wash technology: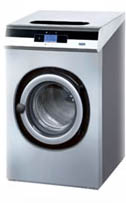 15% Less Water Consumption due to the enhanced drum design combined with the Cascade drum and Power wash features for enhanced mechanical and rinse action with less water usage
25% less Residual Moisture due to the unique drum design and high G-force achieved on spin
20% less Energy Consumption lower water levels during the wash cycle reduces energy required for heating whilst reduced residual moisture reduces ongoing drying energy requirements
This range also features SuperEco programmes which even create savings through reduces wash times with reduced water and power consumption for lightly soiled loads.
Features:
Variable spin speeds allows programmes to be tailored to reduce drying times or protect delicates.
Large loading door opens 180 degrees making the machine easy to load and unload for the operator machine.
Large door handle makes it easy to operate and features a continuous ratchet mechanism making it almost impossible to overturn and damage.
Easy access to all vital parts of the machines makes servicing and maintenance quicker.
Trace-Tech an optional management tool enabling reports and statistics to be monitored and recorded on each wash.
Digital controls offer Xcontrol or Xcontrol plus for easy or full control options. The easy to use digital display guides users through programme options and instructions in multiple languages.
Ability to programme wet cleaning.
Primus RS Range Washing Machines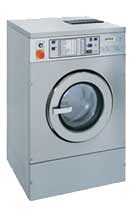 Primus' RS range of commercial washing machines offer rigid mount, standard spin washers in capacities from 7kg to 35kg. These easy to use commercial washers are ideally suited to operate with both the Smartcard payment system and Auto dosing system, and are available with and without heating elements making them ideal for boiler fed premises.
Primus RS washing machines contain a host of features to benefit the user and their laundry:
Flexible wash programmes can tailor the machine to your washing needs, allowing you to specify temperature, spin action and cycle times.
Advanced microprocessor helps to detect and diagnose any faults that may occur with the machine, helping to simplify any maintenance.
Medi-specification programmes are fully compliant with NHS guidelines for cycle temperature and length.
Large loading door makes the machine easy to load and unload for your operator.
WRAS approved Type 'A' air gap ensures it complies with the current water regulations for connection direct to the mains water supply.
Cool down feature helps to reduce creasing in your fabrics after a hot wash.
PowerWash drum improves rinse efficiency, whilst using less water.
Compact width – standard 660mm width (Primus RS7 – RS13) makes machines ideal for replacing existing models.
Commercial Dryers Range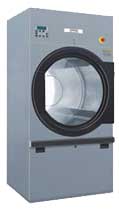 Our complete range of commercial dryers means we've got a commercial dryer to match any requirement or budget. From a compact, highly efficient 6kg commercial dryer to a large, heavy duty 80kg dryer, all our commercial dryers combine excellent energy efficiency with superb results.
Laundries both small and large can benefit from our dryers advanced features and benefits including:
Radax Airflow System moves air more effectively, reducing drying time.
Large loading doors make it easy for operators to load and unload the dryer, and can be left or right side mounted to suit.
Auto cool down feature help to reduce creasing in your fabrics.
Control diagnostics helps to detect and diagnose any faults that may occur with the dryer, helping to simplify any maintenance.
Large lint filter makes the dryers easy to clean.
Anti-wrinkle tumble helps to reduce creasing.
Stainless steel drum ensures long machine life.
Full control as standard on non coin operated machines, allows multiple programmes to be specified.
Professional Chest Heated Ironers
Features
Safety finger protection and emergency button for more safety
Foot pedal for easy start and stop operation
Unlimited variable temperature control
High ironing pressure
Automatic lifting and lowering of the heating bed
Built-in large laundry box
Cabinet in galvanized steel
Space saving installation against the wall is possible: front return
Unlimited variable speed by means of frequency control (I 25-140, I 30-160, I 30-200)
Electric heating
Drying Ironers
Primus manufacture a range of industrial drying ironers that combine the best in performance, reliability and results.
All ironers in the range are designed to be easy to use, provide excellent ironing results as well as containing important safety features to protect laundry staff.
Our commercial drying ironer range has a host of features to benefit the user and their laundry:
Easy to operate – programmable settings make ironing easier
Finger guard & emergency stop for added operator safety
Chrome plated roller for even heat dispersion and premium finish
Self diagnosis helps to detect an diagnose any faults, simplifying any maintenance
High ironing pressure ensures a premium finish
Large built in laundry box captures ironed linen
Speed & temperature display makes it easy to ensure set up is correct for the fabric type
Easy length folding allows single person operation