Packaging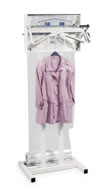 Machines for the packaging of hanging clothes and linen for laundries, dry cleaners and the fashion industry.
Features include: Fast, flexible and efficient, Controlled and efficient material use, Height adjustable, Bottom sealer can be integrated.
Models:
HP 630KST - floor mounted
HP 630 KW - wall mounted
HP 630 WS – Laundry packing machine

Semi automatic & Automatic Packaging and Folding machinery.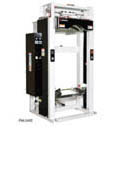 PM-240,PM-250,PM-290
Semi-Automatic Bagging Machines
Hourly Max . 220 cycles. (For Suit size)
Up to 3 items (shirt size) to be bagged in one cycle (in use Wire and/or Plastic hanger)
Decrease of the usage for the bagging film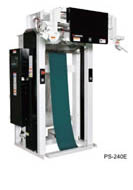 PS-240,PS-250,PS-290
Automatic Bagging Machine
Hourly Max . 280 pcs (items) bagging available (For Suit size)
Either direction (from left to right or from right to left) to be able to choose

PS-300
Automatic Bagging Machine
Providing Up to 350 bundles per hour

PS-500
Automatic Bagging Machine
Providing Up to 500 bundles per hour
This machine is ideal for high production facilities
Labor and poly savings will provide a quick return on investment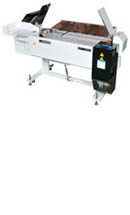 AF-760J
Automatic Shirt Folder
Heating method by employing a collar, improve the quality finish by loading mechanism footing by adopting a new mechanism, Wrinkle reduction of body wrapping.
Features - About 15 degrees from horizontal, the height is adjustable up to 880 from 800 the angle of the table. Replacement of the fixing plate, working easily with lever type. With a useful maintenance mode that is for cleaning and lubrication.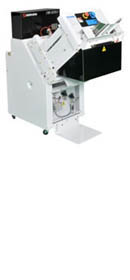 PM-428J
Automatic shirt bagger
Film Size: 260 ~ 280mm (By adjustment) the length of the bag: 360 ~ 410mm. (Can be changed at intervals of 10mm adjustment).
Automatic packaging with the introduction of Goods
Features - Input port is safety in light sensor, safety design also does not hurt your hands because it is sandwiched between the pressure of the inlet guide. Prevent jamming of the goods by the sensor of the seal portion on the. Film set is unnecessary, thus eliminating the waste of film every time even if the power is turned off.