Latest News
Dry Cleaning Machines in 2012
5 February,2012
"Minimum consumption, maximum savings, two independent cleaning systems in a single machine and affordable …  Parrisianne Dry Cleaning Solutions Ltd has always offered the very best dry cleaning machines to the industry for the most competitive prices and as we enter 2012 our focus is to continue to do this" says James Holt, Managing Director.
Parrisianne's partnership with Union Srl dates back to the 1980's and we are proud to work alongside a manufacturer that is recognized as a leader in the field of dry cleaning, renowned for their leadership in the field of research and development for new products and processes and back all of that with excellent quality of manufacture and performance of machinery.
Traditionally the majority of dry cleaning enquiries have been for perchloroethylene (Perc) machines mainly because the initial outlay for machinery is cheaper than Multisolvent machines and more often than not the enquirer or an advisor has only ever worked within a perc process, knows its cleaning capabilities and is aware that using a Multi-solvent requires more pre cleaning work however in the past 18 months Parrisianne has seen an increase in enquiries for alternative solvent machinery and in particular Union's energy saving Nova Series.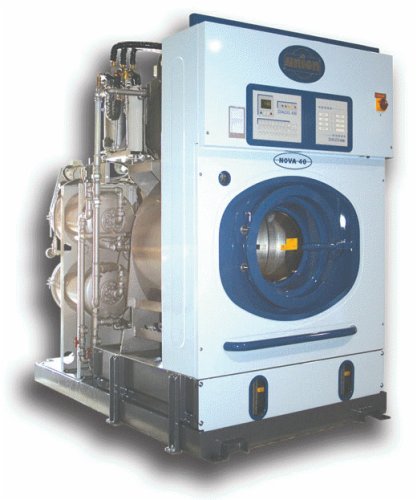 "It is no secret that utility prices have seen an incredible rapid rise dating back to 2005 though some are more dramatic than others. Electricity and gas – two of the most-used energies – have nearly doubled over the last seven years and customers are looking for ways to make sure that every penny counts"
The Nova system has an extremely low electrical consumption, in the water free version, with a 35lb machine only using 3.9kw compared to 16kw for a perchloroethylene or standard Multisolvent equivalent. Add to that Zero water & Zero steam costs plus incorporating two independent cleaning systems in a single machine, the first for cleaning dark garments and the second for lighter coloured or white garments and no distillation unit as solvent distillation is not needed. The system has two separate circuits, two independent tanks, two solvent pumps and two dedicated filter circuits. For cleaning the dark garments the Nova uses a filtering system with nylon discs and filter powders and for light garments a cartridge filter system.
In July of 2011 Mr Khalid Zuberi of Kesgrave Cleaners, Suffolk made the transition from a perchloroethylene machine to the Nova Series and is delighted with the choice he made
"My old perchloroethylene dry cleaning machine was using up to 26kw electricity and 280 litres of water (Inc extra drying) per cycle now I only use a maximum of 5kw electricity and NO WATER as a result of this my utility bills are £250 per month cheaper. The cleaning process has proved to be first class and I have noticed using this system allows for better finishing and the garments are softer and brighter on finish. In particular I have found that this cleaning process to be very good on  &  labeled garments. In fact the cleaning process is so good that I'm now even saving £10 per week on till ribbon as I can still see the ink for a longer period"
Parrisianne are also still very actively selling Perchloroethylene and Multisolvent machines and also now offer the very latest machines from Union Srl designed for the SYSTEMK4 dry cleaning concept.
SUPPORT - Of course no matter how good the machine is there will inevitably be a need for service support at some point "Parrisianne historically has a first class name for after sales support and service and we have always said the Salesman sells the first machine and the engineering department sells the next" and on that basis Parrisianne offers a free technical telephone support helpline for all customers and upon a engineer site visit being necessary you can be safe in the knowledge that we will have the right part as Parrisianne stocks over £120,000 worth of stock.
FINANCE – All of the above including savings sounds great but actually financing the deal in the first instance has proven difficult for many businesses in the past few years. As we have all been made well aware the ability to gain credit is now a lot tighter and those that are suffering with poor credit history can stand virtually no chance. However Parrisianne are in the enviable position of being able to offer financing from our own company Parrisianne Finance Ltd and whilst a as a rule Parrisianne would always recommend that customers try the traditional sources of funding first  in the event that is not possible then we can help.