Latest News
Thinking of starting a dry cleaning and/or laundry business
4 July,2013
Location?
Image?
Vital areas of the industry that will bring additional work in with it?
How you wish to clean? Should it be using solvent? If so is the traditional use of Perchloroethylene best or maybe an alternative solvent such as GreenEarth, Hydrocarbon or the latest addition Kreussler's SolvonK4?
What is Wet Cleaning?
Is the shirt and domestic laundry work just for ironing parlours or is it big business for dry cleaners?
Which finishing equipment do I need?
How do I operate the machinery? How do you maintain the equipment? Are spare parts readily available?
Can the supplier you choose be trusted to still be at the end of a phone for back up after the initial sale?
Will they be on call to help you 7 days per week? Is their advice free?
Can that company help train your staff in operation, maintenance and staff training? What utilities do I use?
Is gas cheaper in the long run or should you run all equipment on electric?
What supply do I need? Who do I need to speak to about it?
If you are looking at opening a dry or wet cleaning and laundry business the above are just some of the questions you will be asking yourself and unlike many subjects these days you won't find all the answers on Google you will however find them at Parrisianne Dry Cleaning Solutions Ltd
Celebrating 35 years serving the UK Dry Cleaning and Laundry industry and going strong Parrisianne are on hand to assist you from the start through to completion of work and beyond. With a portfolio of industry leading brands that cover all sectors of the market many of which we exclusive represent, Parrisianne is in a very strong position and are widely recognised as one of the leading UK suppliers of dry cleaning and laundry equipment.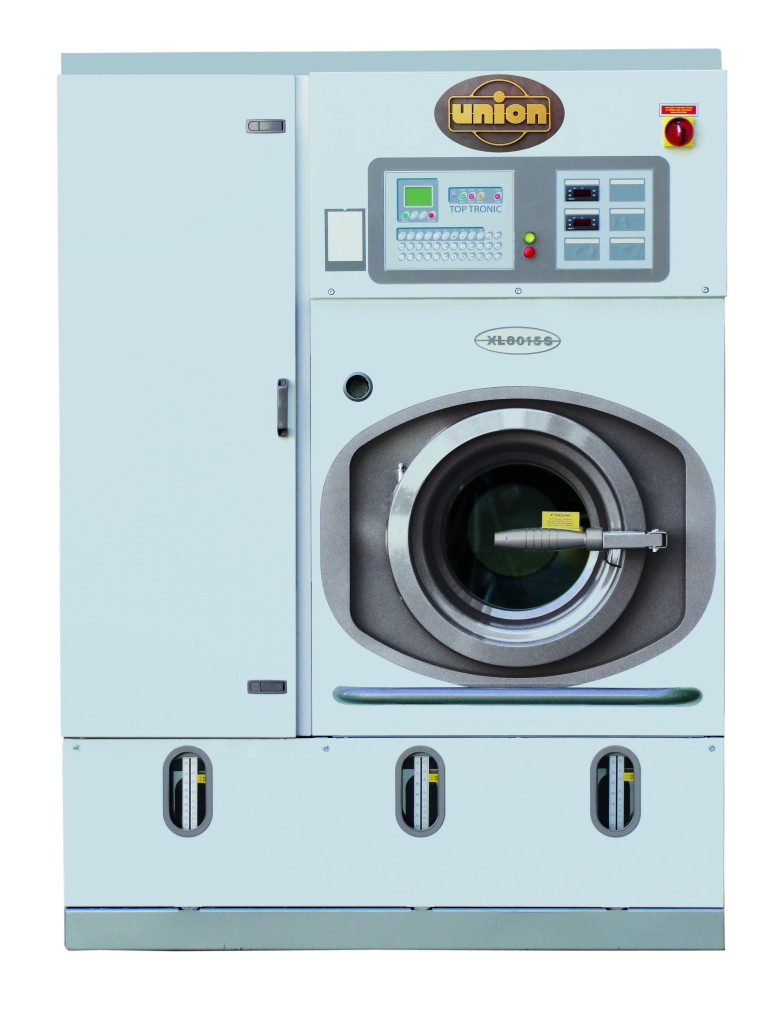 Parrisianne originally started out with an emphasis on servicing rather than selling equipment although it had already gained the UK exclusive agency for Union dry cleaning machines. In the early 1990's the company broadened its scope by becoming the exclusive agent for the Italian finishing equipment specialist Ghidini. Parrisianne have continually grown and lead the way in supplying specialised shirt machinery to the UK industry with an exclusive agreement to distribute Sankosha products to the and now have over 300 units working in the UK. This was closely followed with another exclusive agreement this time for the Jumag range of Steam Generators.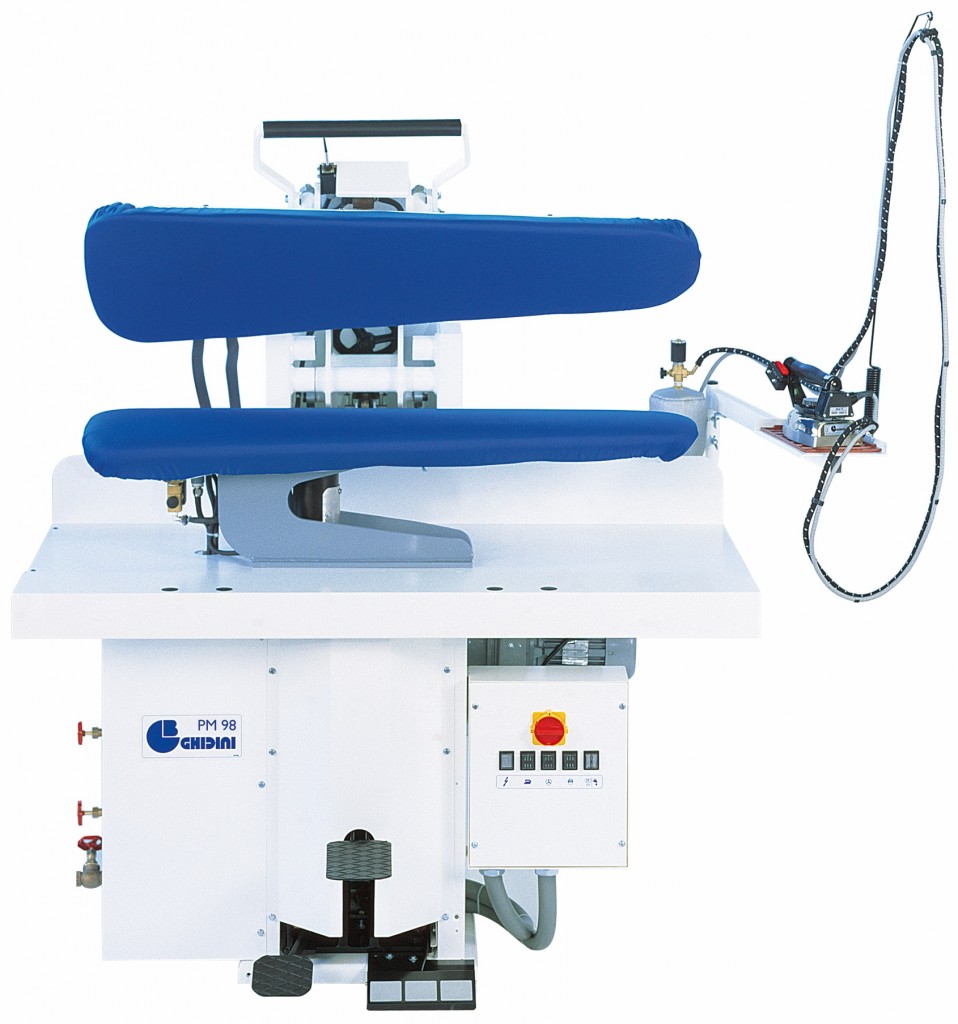 More recently in 2011 Parrisianne became a national dealer for Primus Laundry Equipment and have achieved great success installing washer extractors, tumble dryers and ironers into high street dry cleaners, factory units and central processing units and as we move forward are able to offer a wet cleaning package in partnership with one of the major textile cleaning chemical suppliers .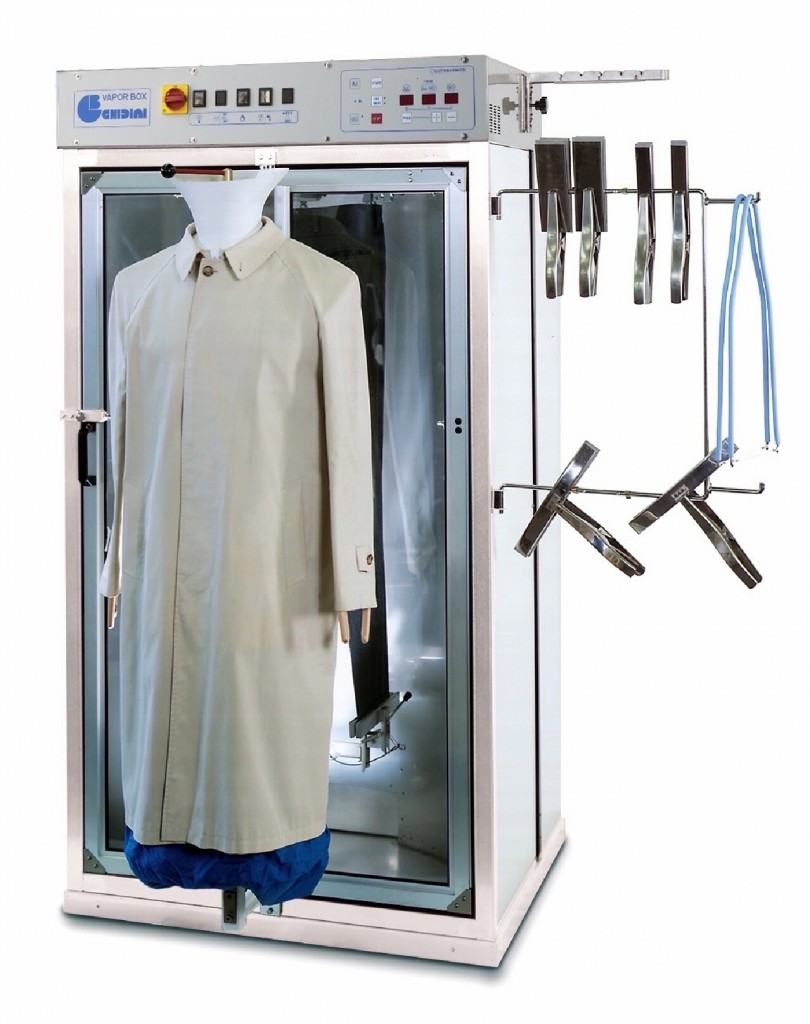 Supplying equipment is a large part of Parrisianne's business but our service starts long before then; completely free of charge Parrisianne will discuss you needs in details with you and arrange a meeting at your convenience to assist you with choice of location and services. We will explain all you need to know about a dry cleaning and laundry business detailing which cleaning and finishing options are available, their cleaning prowess and trends within the industry. With so many years of experience and knowledge we have a detailed knowledge of the demographics of customers in your area that you are likely to be dealing with on a day to day basis and the equipment needed to service those.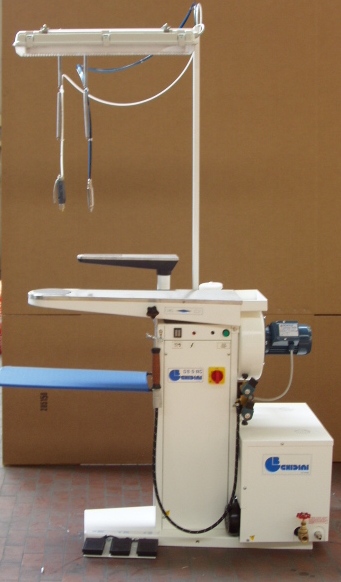 No matter what your question is or the issues you may be facing chances are we have come across it before and dealt with it. Making sure that we only work with the best brands available has kept us at the forefront of the industry and this is why many new start businesses choose Parrisianne.
For a dry cleaning start up package we suggest the following equipment as standard, a Union dry cleaning machine, spotting table, steam finishing cabinet or body former (dolly), a manual utility press or finishing table with vacuum, blow and up steam all from Ghidini, a Hawo bagging machine, a Primus washer and dryer.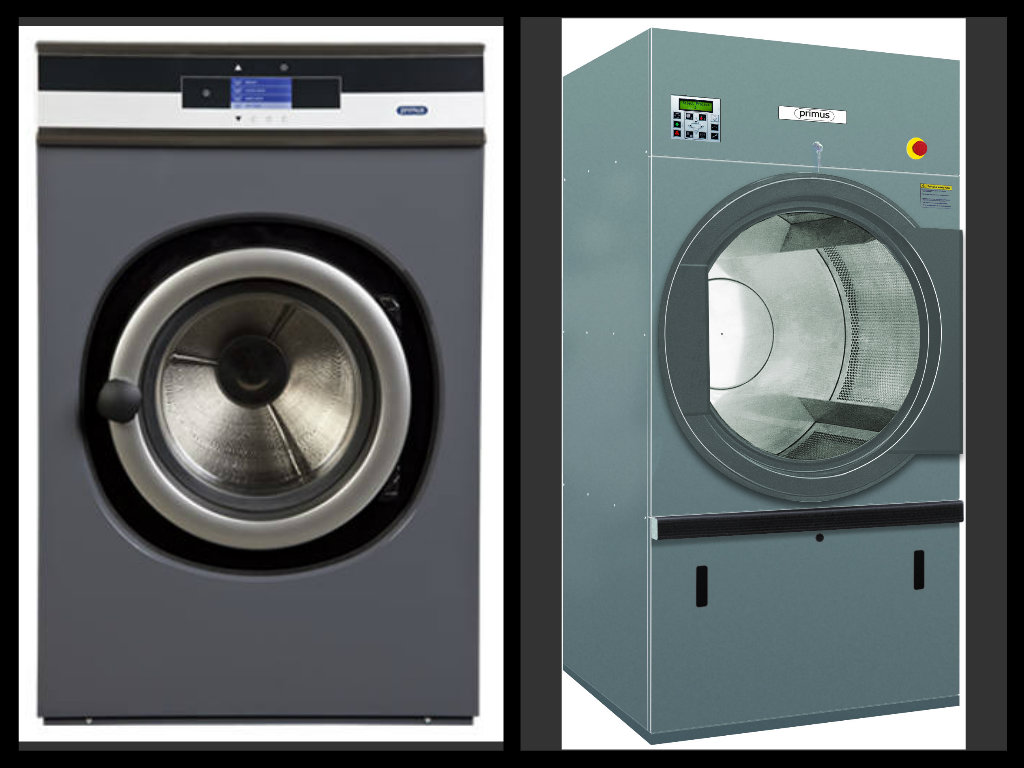 For wet cleaning we offer packages from 10kg-24kg for Primus washer and dryers however because you are cleaning in water the finishing process is different and therefore your equipment needs also differ. A spotting table is still required but for finishing we recommend from Sankosha the DF100E-V2 rotary jacket former with tensioning and the Sankosha DF-740E trouser topper along with a Ghidini Tornado V finishing table.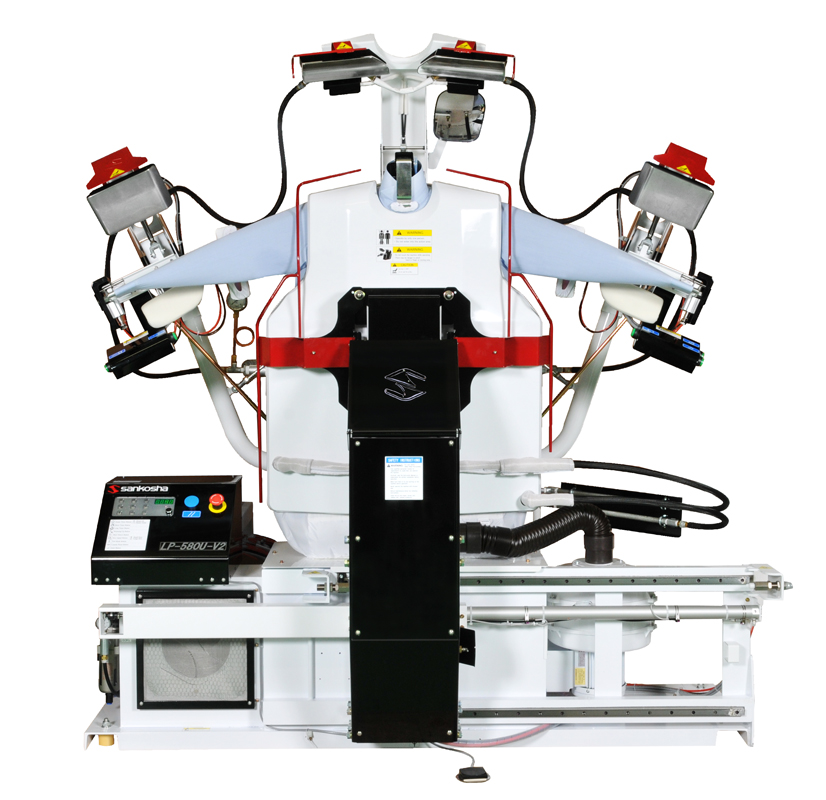 < Shirts are now big business for all dry cleaners however new starters needn't worry about spending hours at a time leaning over an ironing table and struggling to finish 12-15 shirts per hour. When Parrisianne introduced Sankosha shirt finishing equipment to the UK in 2003 it revolutionised the UK shirt market and has seen the greatest growth particularly in the past 6-7 years. The flagship model from Sankosha is the LP580E-V2 tensioning single buck shirt finisher and the LP690E-V2 tensioning single collar cuff press offering a crisp, firm finish on collars, cuffs, shoulder and body of the shirt and the ability of finishing short and long sleeves, single and double cuffs. Sankosha extensive research and development team have created a machine that is excellent on space saving, whilst not compromising on quality and the range of collar cuff presses are award winning at recent trade shows.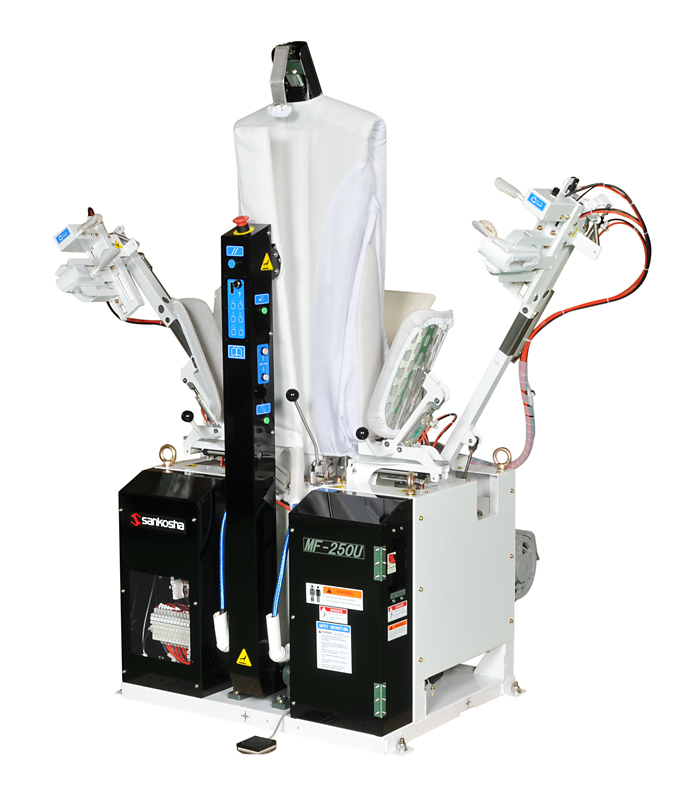 Many dry cleaners now offer a men's shirt service but are overlooking a large business area in ladies blouses, to assist with finishing difficult, time consuming items such as blouses, polo, t-shirts and larger children's shirt the recently released Sankosha MF250E-V2 multi garment finisher is the ideal machine, capable of finishing 40-45 garments per hour and with customisable programmes.
Training
Following on from the last two Which! reports it has become more and more apparent in the past 5 years that level of cleaning skills within the industry is not what they should be and with the exposure in front of the public it is now more important than ever that businesses invest in training for their staff. Parrisianne engineers are all fully trained and offer full operational training on all of our equipment and for training on the practice of cleaning garments including health & safety, fibre & fabric identification, stain removal, understanding detergents, protecting delicate items, drying options to name a few we have are able to offer onsite training courses,
Support
Of course no matter how good the machine is there will inevitably be a need for service support at some point. Parrisianne historically has a first class name for after sales support and service and we have always said "the salesman sells the first machine and the engineering department sells the next" and on that basis Parrisianne offers a free of charge technical support helpline for all customers and if an engineer site visit becomes necessary you can be safe in the knowledge that we will have the right part as Parrisianne stock in excess of £120,000 worth of spare parts across all of our brands.
Furthermore our fully employed engineers undertake all installation, commissioning and service work, and our technical office support is available from early to late 7 days a week.
Finance
All of the above including savings sound great but financing the deal in the first instance has proven difficult for many aspiring owners and established businesses in the past 5 years. As we have all been made well aware of the ability to gain credit is now a lot tighter and some businesses can stand virtually no chance, however Parrisianne are in the enviable position of being able to offer financing from our own company, Parrisianne Finance Ltd, and whilst as a rule we would always recommend that customers try the traditional sources of funding first in the event that is not possible then we are here to help.