Latest News
NW London Dry Cleaners Choose Union Perc Machine
4 September,2012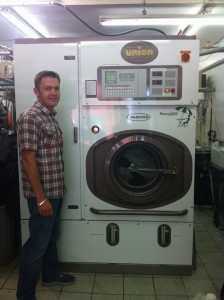 With their existing dry cleaning machine over 15 years old, owner Mr Avi Yeffet of Madam George Dry Cleaners decided the time was right to upgrade to a new machine.
Taking the time to meet many of the suppliers Mr Yeffet finally decided on placing an order with Matt Dowse of Parrisianne Dry Cleaning Solutions Ltd for a Union XL8015E, 2 tank, 15kg machine for use with perchloroethylene and because a lot of delicates are processed at his three business in desirable NW London location took the option to add the Artic Line solvent cooling system.
Mr Yeffet commented "I have ordered machinery with Matt before and again he went the extra mile to make sure I got everything I need, the machine and its cleaning capabilities are excellent and I, my staff and most importantly my customers are delighted".