Jumag Boilers
Jumag steam boilers from Germany stand for efficient steam supply, easy handling and high reliability. Jumag are widely recognised as the world leader in supplying the finest quality steam generators, with reliability second-to-none.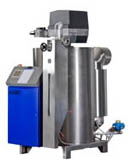 For more than 30 years Jumag have developed, manufactured and distributed oil-and gas-fired steam boilers, which combine the advantages of the robust and reliable three-pass fire tube boiler with the benefits of energy-and space-saving and less expensive quick steam generator.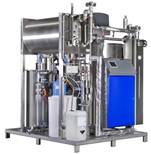 Jumag provides a complete system of highly energy-efficient boilers, in a wide range of sizes from 160 - 1840 Kg/hour (94 - 1104 Kw thermal output), utilising either single or multiple units to achieve the final required output. Economizers, feed water / condensate vessels and blow-down vessels for steam capacities of 30 kg/h to 560 kg/h per unit and up to 2.2 t/h with multiple boiler systems.
Exceptional productivity is achieved as the generators are capable of raising

steam pressure to the respective operating pressure in a mere 8 minutes, up to a maximum of 13 Bar.
Jumag generators have incredible economic efficiency by reusing the exhaust gas heat and by deactivating the burner fan when not actually heating. They are also extremely operationally reliable as they have very few wear parts use electronic control components, and are designed simply with compact total construction. Jumag generators are fitted with Touch Screen panels for simple menu guided control. They are self analysing and monitored by utilising SPS (programme logic controller) and sensor technology.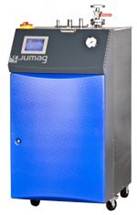 NEW! JUMAG electric steam boiler
NEW PRODUCT: After an intensive development and testing phase Jumag presented an innovative electric steam boiler, which is not only similar to the bigger Jumag steam boilers, but also has got very good answers to the weak points of electric steam boilers from other manufacturers.
The Jumag "Edi" is powered with 20kW or 40kW at an operating pressure up to 11, 5 bar. Other sizes are available soon.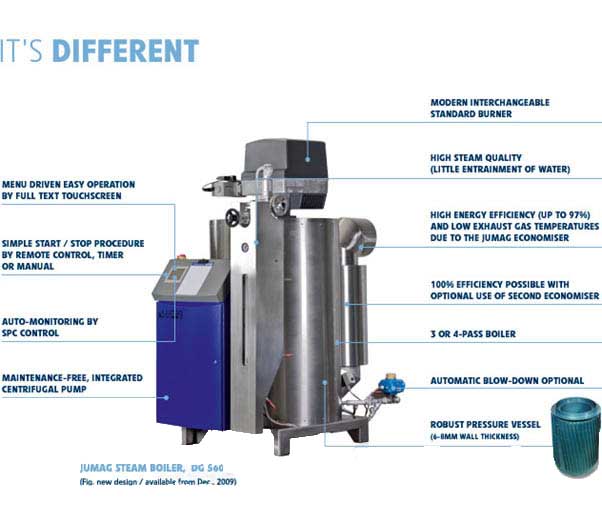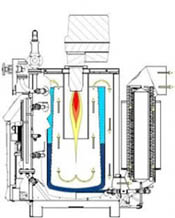 Advantages
High fuel efficiency, due to utilisation of exhaust gas energy efficiency up to 97%
Combines the advantages of a shell boiler with that of a quick steam boiler
Robust construction (6 - 8 mm thickness pressure vessel)
High safety standards due to the compact construction and safety devices
Easy operation: turn on, regularly blow-down, turn off
High quality construction due to the application of industrial standards to all components
12 month spare parts warranty. The availability of almost all replacement parts is 20 years.
Master Slave control for the management of multiple boilers (optional)