Industry News
Solvent Emission Directive (SED)
30 January,2012
Do you need an SED permit ?
At a glance: Permit Conditions' taken from the PG notes 6/46 (04):
New & Substantial Changed Installation will mean: Where no dry cleaning machine previously existed and/or where a machine is added or exchanged and emissions are increased.
An Existing installation is one that existed before April 2001.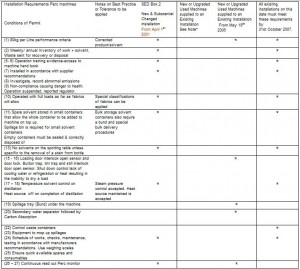 *Note: new or upgraded used totally enclosed machines, supplied to an existing installation after April 2001 are not considered a new or substantially changed installation, even if the capacity is increased
Parrisianne Solvent Consumption
Parrisianne Dry Cleaning Process Guidance
Parrisianne Dry Cleaning Update No 5