Centro Sistemi Conveyors

Zucchetti Centro Sistemi (ZCS) is a sister company of the Zucchetti Group which has more then 2.000 employees of which 500 persons dedicated to research and development.
Centro Sistemi is divided into 4 business units – Automation, Robotics, Software & Healthcare. The Zucchetti Centro Sistemi SpA, founded in 1985 by Fabrizio Bernini, began as software companies, and almost immediately began to diversify its business by developing programs dedicated to blood centers for Menarini.
In 1993, the management software for companies Theseus 4, Laux also developed software for laundry marking the birth of 'Automation Division'.
2007: The Automation Division creates new lines of products for industrial automation markets opening up to others: the line Phoenix was born.
2009: The Automation expands its scope by using the new RFID technology.
2010 are assigned by the Prime Ministers Prize Awards, given to companies that have stood out at 360 ° for innovation in processes, products and services and Impresex Innovazione Prize Award 2010, organized by Confindustria in collaboration with the ' Association Quality Award Italy.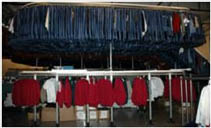 Conveyors are not as expensive as many people would believe and some drycleaners appear to be unaware of the advantages of using a conveyor for garment storage. Due to the economic downturn there has never been a more important time for drycleaners and laundry owners to differentiate their business from their competitors and one way to achieve this is by making your business extremely efficient in the way staff handle their customers garment collection.
The Automation Division develops hardware and software solutions for the management of garments/uniforms for drycleaning units, industrial laundries, healthcare institues and hospitals ... and for the Hospitality sector (Hotels, Casinos, Spas, Wardrobes) with hundreds of installations all over the world.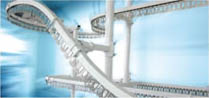 ZCS is the only company that has completely modular conveyor belts for hanging garments. The conveyor is in fact made up of modules (tracks) which can be added or removed easily. Like this it is possible to shape the conveyor according to the customer needs. It is also the only conveyor that can change shape and size, for example if need more storage.
The conveyor belt of ZCS has a chain with separate links, which makes it seem at first sight similar to a continuous conveyor band, but with many more advantages. For example, it can also be used in small spaces, because, unlike the conveyors of the competition requiring a curve to go uphill, ZCS permits to go uphill also with vertical pieces.
The conveyor bears very heavy loads, even up to 100 kg per meter: this feature makes the conveyor especially suitable for storage of many garments, for example in case of hotel systems where you load locker bags, or another kind of container where you can hang garments and personal items of the employees such as shoes and bags.
Quick and Easy Maintenance, unlike the continuous conveyor belts, for example if they break need long interventions, with a ZCS conveyor the customer will have easy and fast repair thanks to the fact that the belt consists of individual parts. Zucchetti Centro Sistemi gives the possibility to stock many garments in a minimum space. Any shape is possible upon drawing dimensions.
An electronic software link can be established with an EPOS system and the conveyors supplied by Parrisianne. This facility allows an operator to simply type or scan a customer's ticket number and the conveyor automatically rotates to the correct unloading position, likewise it is also possible to scan a ticket whilst loading the conveyor and the EPOS system will automatically rotate the empty slot position for loading garments.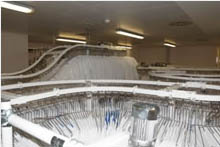 At Parrisianne we have been asked to design many varying sizes of conveyors from simple oval designs to rising uphill units for storage on either two levels of flooring or double height installations where limited space is available but where ceiling height is not an issue, it is also possible to utilize this space very efficiently with a spiral conveyor.